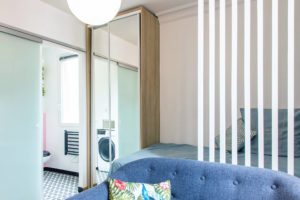 2 in 1 flat for students which Is composed of 2 independents studios which have separates entrances.
Each flats have a real kitchen with dishwasher, oven, induction hob, microwave, a bathroom with a washing machine and dryer, a bedroom with real bed, a working space with USB fast charging and a living room with sofa and TV.
To separate each area, we used several tricks: lights for entrance with motion light detection, for kitchen with spotlights and with bathroom led light; Floor with mix of parquet and tiles and customized canopy.